☆ WRESTLING ☆
I recently got into wrestling! Here I'll talk about my favorite wrestlers.
CM Punk - Other Wrestlers - Pay-Per-Views - Entrance Songs
CM Punk aka Phillip Jack Brooks
Punk's LiveJournal (2002-05) and Website (2002) & (2004-5).
CM Punk is the reason I got into wrestling! I found him hot ( lol ) and decided to watch his pipebomb speech and Money in the Bank 2011 match. From there I fell in love with both him ( lol ) and the sport. I admire his straight edge beliefs and how passionate he is about upholding those as well as his career as a wrestler; going from humble beginnings in the IWA, establishing a name for himself in the Ring of Honor, and working through the ECW reboot to the WWE in 2006, he grew as a wrestler while still maintaining the same drive, spirit, charisma, and dedication. I can now confidently say that after being into the sport for a while, he's my favorite wrestler ever.
Stumbling upon his LiveJournal and reading all the entries in a night, I saw proof of his goodwill and real passion for what he did even from the year 2002. He talks about his close friendships with Colt Cabana and, later, Samoa Joe, as well as telling anecdotes, bitching about his travels, and mourning the deaths of his idols -- the last entry being about Eddie Guerrero's 2005 passing.
I find him a remarkable human being aside from being a remarkable wrestler. Even in his old LiveJournal entries he mentions his hatred for homophobic bigots and continues to support same-sex marriage to this day. He also has always presented himself as anti-establishment, mirroring this in his strong distaste for republicans mentioned frequently in his blog entries. He also loves music, horror movies, and the Chicago Blackhawks, which happens to be my favorite hockey team from when I lived in Cook county, Illinois. He is a Scorpio, his birthday being October 26th, and is married to former wrestler AJ Lee.
He has six piercings -- his ears, his nipples, his belly button, his tongue, and the left side of his lip. His tattoos include: the Pepsi logo on his left shoulder, the Cobra Command and Arashikage Ninja Clan symbols from GI Joe on his right shoulder and forearm respectively, the Bouncing Souls logo on his left bicep, an Operation Ivy logo on his left calf, Rosie the Riveter, a cobra and skull on his chest, 'romance' and a heart across his knuckles, 'drug free' across his knuckles & 'straight edge' on his stomach, 'no gimmicks needed' on his left hand in reference to his straight edge lifestyle being seen as only a character, several symbols of good luck (four-leaf clover, a horseshoe, a spiderweb with '13', brass knuckles, a three-eyed koi fish, a rabbit foot) as well as 'luck is for losers (a bit contradictory), 'honor' on his left forearm, two dice, four ace playing cards to honor his friend Ace Steel, a flaming skull with 'Barbiehead' to honor his friend of the same name, his dog Callee's paw and her name on his left wrist, his wife AJ Lee's lips on his right, '31' (his sister's soccer jersey number) behind his left ear, and several other smaller ones that I won't bother talking about. Lord.
Signature moves: Go to Sleep (GTS), Anaconda vice, suicide dive, roundhouse kick, running knee high (clothesline & bulldog).
'Heartbreak Kid' Shawn Michaels (HBK) aka Michael Shawn Hickenbottom
Another wrestler that I originally just found hot ( lol ) and whose style and character I then grew to admire; he has an outspoken charisma and attitude about him that's akin to CM Punk (in fact, here's an article discussing their similarities!). I always root for him in the ring and live for his Texan badassery. Any match with Shawn is so engaging - he can take hits until he's bleeding and still keep going. Simply amazing.
His birthday is July 22nd, making him a Cancer. He retired in November 2018 but I'll always look back on his stuff with D-X (
) and throughout the 2000s with a smile on my face.
Signature moves: Sweet Chin Music, flying forearm & kip-up, elbow drop, inverted atomic drop, Moonsault.
Chris 'Y2J' Jeircho aka Christopher Keith Irvine
Jericho is another one of my favorites! Y2J's character is so awesome to me. He can be an asshole at times but he's funny and an incredible wrestler so it's balanced ( lol ). Sometimes I myself enjoy calling him an ass clown. But seeing his entrance video start up always makes me say 'let's go!' because it's instantly recognizable and I know it means a good match is coming up. His red tips in the early 2000s are just as iconic as his light-up jacket from later on. Stan Fozzy!
His birthday is November 9th, also making him a Scorpio (apparently a lot of my favs are water signs. Who knew?) and he's still going strong with both wrestling and his band Fozzy.
Signature moves: Walls of Jericho, Lionsault, Codebreaker, Liontamer, Breakdown.
Edge aka Adam Joseph Copeland & Christian aka William Jason Reso
Edge and Christian are one of the most iconic tag-teams in history for a reason. For me, they're the epitome of charismatic 90s cool dudes. The fact that they're childhood friends and as close as brothers makes me love them even more, it's such a touching special relationship. Even outside of tag matches, however, they're two wrestlers who I'll definitely root for in most scenarios. The Rated R Superstar Edge wins me over more and more with each pay-per-view. His huge jacket and surfer shades and Christian's iconic fishnet top are some of my favorite wrestler outfits of the early 2000s and maybe ever? They're just too iconic. I'm a proud Peep and Edgehead, period.
Edge's birthday is October 30th (wow, another Scorpio) and Christian's is November 30th (a Sagittarius, which I love).
Signature moves: Con-chair-to, double flapjack, double spear.
[Edge only]: Edge-o-matic (impaler DDT), spear. [Christian only]: Killswitch, frog splash.
'Hardy Boyz' Jeff & Matt Hardy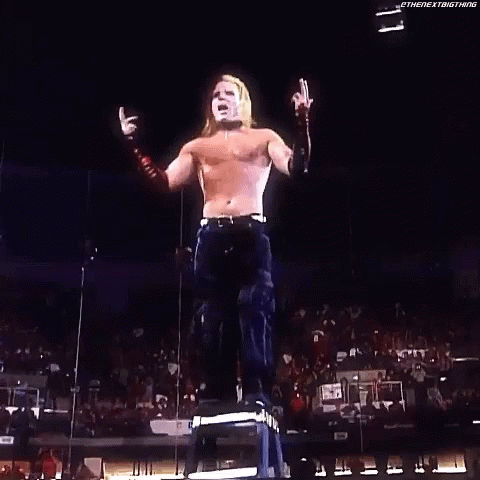 A pair of cruiserweights that I love for all the same reasons as Rey Mysterio, but this time with fashion! Jeff Hardy is one of the most iconic portrayals of late 90s mallgoth fashion and I absolutely adore it, seeing as that's one of the aesthetics that inspired me to make this site. The iconic Edge-spear-off-20-foot-ladder-in-midair moment from Mania X-7 is one of the most iconic things of all time. I also absoltely love everything that Matt and Jeff did with the 'broken/woken' thing at Impact wrestling, it's fucking hilarious and I just love it so much. The Hardy Boyz' entire persona and moveset is awesome and they're definitely one of my favorite tag-teams when together and while apart.
Jeff's birthday is August 31st, making him a Virgo. Matt's is September 23rd (also a Libra!).
Signature moves: Event Omega (diving guillotine leg drop [Matt] / diving splash [Jeff]), Poetry in Motion, Rapture, Spin Cycle
[Jeff only]: Swanton Bomb, Extreme Twist of Fate (inverted facelock neckbreaker slam).
[Matt only:] Twist of Fate, Ice Pick (double underhook w/ bodyscissors).
Rob Van Dam aka Rob Szatkowski
Another former-ECW superstar, RVD is genuinely one of the most awesome dudes in wrestling. Unlike some of the guys on here like Jericho or Christian (still my babies, don't get me wrong), RVD is never annoying or a dick to people! Not to mention the fact that he's a stoner and not afraid to show it. What a king. The fact that he based his entire persona off looking like Jean Claude Van Damme, learned all the martial arts skills, and practices them expertly in his moveset makes him one of the most unique and badass wrestlers out there. Watching him fight is so exciting, and he embodies the type of fast-moving technically skilled wrestlers that I love.
His birthday is December 18th, also making him a Capricorn!
Signature moves: Van Daminator, five-star frog splash, rolling thunder, monkey flip, chair surf.
Rey Mysterio aka Oscar Gutierrez
Rey-rey is a luchador king! A lot of my favorite wrestling moves are crazy leg stuff and when they fly around and that's exactly what Rey does. His matches are always so fast-paced and engaging; something is always happening and I love rooting for him. Cruiserweight fighters overall are some of my favorites because they can do like, frog splashes and frankensteiners and all that crap so easily. It's awesome! Besides being a talented king, Rey's interactions with fans always brighten my day. It's so obvious that he loves what he does so much just like his late best friend Eddie Guerrero did. Also, the mask is iconic and I love it. Cultural reset.
His birthday is December 11th, making him a Capricorn (my moon sign!).
Signature moves: 6-1-9, Mysterio-rana (often a counter to a powerbomb), rolling roundhouse kick, springboard crossbody, headscissor takedown.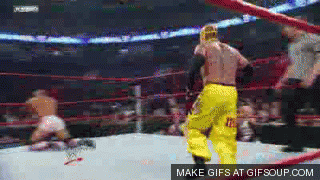 'Latino Heat' Eddie Guerrero aka Eduardo Gory Guerrero Llanes
Eddie (rest in peace) was one of the best wrestlers to come out of the ECW. Seeing his rapid-fire fighting style is always so impressive and he's always a joy to see on-screen in general! Latino Heat is definitely one of the most renowned wrestlers today and he's so deserving of it. He inspired so many young wrestlers to become who they are today. Seeing the reactions of his close friends Rey Mysterio and Chris Benoit as well as several others following his death is so heartbreaking to me. He touched so many people's lives with his genuine love for what he did and I miss him.
His birthday was October 9th, making him a Libra, like me!
I always had a feeling he was an air sign.
Signature moves: Frog splash, Hilo, Gory special, Lasso from El Paso, Three Amigos.
'Legend Killer' Randy (Keith) Orton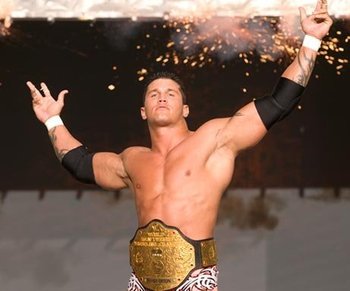 Randy is a peculiar character for me. When I watched him as a heel in the early 2010s, I really didn't like him. But seeing him be introduced and join Evolution and slowly grow his persona was awesome! I've slowly come to like the guy, and find myself rooting for him often. Not to mention his entrance song fucking smacks. The RKO (fondly called the 'pp nuts' by myself and Jack) is one of the best signatures out there.
His birthday is April 1st, making him an Aries (the first one, and a sign I really like!)

Signature moves: RKO, rope-hung DDT, punt kick, inverted headlock breaker, superplex.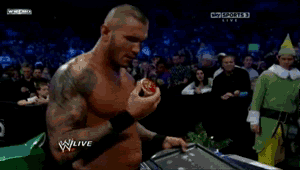 Booker T aka Robert Booker Tio Huffman
An absolute icon and king for the ages! Booker T has one of the best entrances in WWE history. Hearing the 'can you dig it, suckah?' gets me so hyped and ready to root the hell out of him for a match. Not to mention the spinaroonie: one of the most iconic taunts ever? I think so.
His birthday is March 1st, making him a Pisces (always a hit or miss but the March ones are more tolerable).
Signature moves: Spinaroonie, Harlem Hangover, axe-kick/scissor-kick, 110th Street slam, Harlem sidekick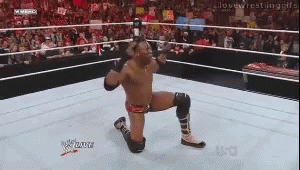 Bubba Ray Dudley aka Mark LoMonaco & D-Von Dudley aka Devon Hughes
Two awesome wrestlers to come out of the ECW, Dudley Boyz are another super iconic tag-team. When Bubba yells 'get the tables!' you know some shit's about to go down. I even root for Spike Dudley (whom I affectionately call 'Bladee') when he's up in a match just for the hell of it. Also, the fact that Billy Corgan attacked none other than Sign-Guy Dudley, their old manager, with a guitar ... that just cements how cool their existence is. Dudley Boyz' inseperability as 'half-brothers' is so cool; you can tell they really love wrestling and they never hesitate to try their best and put on a great show.
Bubba's birthday is July 14th (a Cancer) and D-Von's is August 1st (our first Leo!).
Signature moves: 3D, superbomb (usually through a table), Whassup? (Bubba holds an opponent while D-Von hits a diving headbutt low blow. Then it's "get the tables!" time), inverted leg drop bulldog [D-Von] / sidewalk slam [Bubba] combo, double flapjack
PPVs I have seen (chronological)
1997: Royal Rumble
2001: Wrestlemania
2002: Royal Rumble, Wrestlemania, Summerslam, Survivor Series
2003: Royal Rumble, Wrestlemania, Bad Blood, Summerslam, Survivor Series
2004: Royal Rumble, Wrestlemania, Bad Blood, Summerslam, Taboo Tuesday, Survivor Series
2005: New Years Revolution, Royal Rumble, Wrestlemania, ECW One Night Stand, Summerslam, Taboo Tuesday, Survivor Series
2006: New Years Revolution, Royal Rumble, Wrestlemania, ECW One Night Stand, Summerslam, Cyber Sunday, Survivor Series, ECW December to Dismember
2007: New Years Revolution, Royal Rumble, Wrestlemania, ECW One Night Stand
2011: Royal Rumble, Money in the Bank
2012: Summerslam
2013: Summerslam
2016: Impact!: the Final Deletion, NXT Takeover: the End, NXT Takeover: Brooklyn II
2020: Backlash
Watchlist
1997: Wrestlemania, Bad Blood, Survivor Series, D-X in Your House
1998: Royal Rumble, Wrestlemania, Summerslam, Survivor Series
1999: Royal Rumble, Wrestlemania, Summerslam, Survivor Series
2000: Royal Rumble, Wrestlemania, Summerslam, Survivor Series
2001: Royal Rumble, Summerslam, Survivor Series, Vengeance
2007: Summerslam, Cyber Sunday, Survivor Series
2008: Royal Rumble, Wrestlemania, ECW One Night Stand, Great American Bash, Summerslam, Cyber Sunday, Survivor Series
2009: Royal Rumble, No Way Out, Wrestlemania, Judgement Day, Extreme Rules, Great American Bash, Summerslam, Breaking Point, Hell in a Cell, Bragging Rights, Survivor Series, Tables Ladders & Chairs
2010: Royal Rumble, Elimination Chamber, Wrestlemania, Extreme Rules, Over the Limit, Fatal 4-Way, Money in the Bank, Summerslam, Bragging Rights, Survivor Series, Tables Ladders & Chairs
2011: Royal Rumble (rewatch), Elimination Chamber, Wrestlemania, Extreme Rules, Over the Limit, Capitol Punishment, Money in the Bank (rewatch), Summerslam, Survivor Series, Tables Ladders & Chairs
2012: Royal Rumble, Elimination Chamber, Wrestlemania, Extreme Rules, Over the Limit, Money in the Bank, Summerslam (rewatch), Survivor Series, Tables Ladders & Chairs
2013: Royal Rumble, Elimination Chamber, Wrestlemania, Extreme Rules, Payback, Money in the Bank, Summerslam, Survivor Series, Tables Ladders & Chairs
2014: Royal Rumble, Elimination Chamber, Wrestlemania, Extreme Rules, Payback, Money in the Bank, Summerslam, Survivor Series, Tables Ladders & Chairs
2015: Royal Rumble, Fastlane, Wrestlemania, Payback, Elimination Chamber, Money in the Bank, Summerslam, Survivor Series, Tables Ladders & Chairs
2016: Royal Rumble, Fastlane, Wrestlemania, Payback, Extreme Rules, Money in the Bank, Battleground, Summerslam, Backlash, No Mercy, Survivor Series, Tables Ladders & Chairs
2017: Royal Rumble, Elimination Chamber, Fastlane, Wrestlemania, Payback, Extreme Rules, Money in the Bank, Great Balls of Fire, Summerslam, No Mercy, Tables Ladders & Chairs, Survivor Series
2018: Royal Rumble, Elimination Chamber, Fastlane, Wrestlemania
My Favorite Entrance Songs (alphabetical)
Booker T 'Can You Dig It, Suckah?'
Christian 'Just Close Your Eyes (V2)'
Chris Benoit 'Whatever'
Chris 'Y2J' Jericho 'Break the Walls Down (V4)'
CM Punk 'People = Shit'
CM Punk 'Cult of Personality'
Eddie Guerrero 'Viva La Raza/Lie Cheat & Steal'
Edge 'Metallingus'
Matt Hardy 'Live For the Moment'
Randy Orton 'Burn in My Light'
Rey Mysterio '619'
Shawn Michaels 'Sexy Boy'
Stone Cold Steve Austin 'I Won't Do What You Tell Me'
Triple H 'the Game'
Undertaker 'Rollin' (Air Raid Vehicle)'